You're probably planning to take a trip soon, and probably like most people you dread the stress and hassle that comes with navigating busy airports. But you don't have to dread this. Whether you're traveling for business or leisure, your experience can be pure bliss.
We'll show you how.
Tips to Enjoy Your Next Journey Via an Airport
Download and use the airline's mobile app
Unless you're checking in a bag, there's no reason to queue up at the check-in desk or deal with a fingerprint-smudged kiosk at the airport. Download your airline's app ahead of time, make sure your reservation details are in, and then use it to check-in. That way, you can head straight to security on arrival at the airport. Your airline's app will even check you in automatically 24 hours in advance of your scheduled flight. Several airlines such as Southwest, now offer free onboard entertainment via passengers' personal devices through their apps, so enough reason to have them on your phone.
Arrive in good time
Make sure you give yourself plenty of time to go through airport procedures. This is especially important if you have to go check-in or drop checked baggage.
Airports are unpredictable sometimes, you can never know how busy it'll be or how long it might take to get through security. And if it's your first time visiting and using an airport, you might want to spend some time looking around, do shopping, or even grabbing something to eat. While it is still important to arrive in plenty of time as to not miss the check-in deadline, due to COVID-19, it's not advisable to arrive for your flight too early and hang around the airport.
Weigh your baggage at home
Break out the scales and weigh your baggage at home to avoid a ridiculous fee at the airport. If your baggage is over the permitted weight allowance given by the airline, you'll be charged an excess baggage fee which can sometimes amount to more than the cost of checking the bag in the first place.
Make your baggage easy to identify
Wrap a colored ribbon or a belt around your baggage. At baggage reclaim, instead of having to pull piece after piece of baggage from the conveyor belt to check if it's yours, you'll be able to quickly and easily identify your baggage and will save a load of time and hassle.
Keep checking your itinerary and flight status
Keep checking you're itinerary and make sure that all the details of your flight are as you expect. Some cities, such as New York City, have multiple airports and you'll want to make sure that your travel plans are in line with that airport.
It's equally important to continually check the status of your flight in the week leading up to it in case of any schedule changes, these occur more frequently than you might expect. This can usually be done on the airline's website.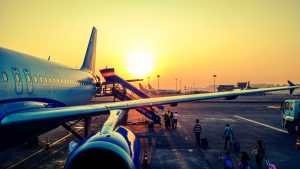 Remember all travel documents and passports
Not all travel documents are essential, but if you leave behind your passport, ID card, or any required visa, you'll be refused to board or not let into the country you're traveling to.
If you're checking in at the airport, make sure you've your flight PNR number ready to give to the check-in agent. If you're checking in online, make, make sure you have your boarding pass printed out or saved on your mobile.
Regularly check for your travel documents before and during your trip to make sure you haven't misplaced them or left them behind anywhere.
As mentioned earlier, due to COVID-19, you may be required to provide special documentation for your flight. This can include; a negative COVID test, a health declaration, a passenger locator form, or any other documentation that is requested.
Dress comfortably
Dress in unrestrictive clothes and that make you feel comfortable. Sitting on a plane for hours in clothes that give you discomfort can be a nightmare, especially on long-haul flights.
If you're meeting someone that you'd like to impress when you land, you can take a change of clothes in your carry-on baggage and get changed at the airport when you land.
Bring some in-flight accessories
In-flight accessories can make a difference. Bring a travel pillow, sleep mask, blanket, earplugs, or whatever you need to stay comfortable.
Bring your entertainment
Create a music playlist on your phone, take a book to read, or bring a device to watch your favorite TV shows and films on. It's especially important to bring your entertainment on medium-haul flights (between 3-6 hours), as these flights are long enough for you to get bored on and usually don't have an in-flight entertainment system.
Many airlines have disabled their in-flight entertainment on flights as part of their COVID-19 safety measures.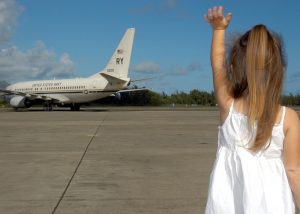 Use a car service to drive you to and from the airport
How you begin your air transport journey begins with how you get to the airport and this can often go a long way. Driving yourself to the airport comes with some inclemency, as you'll have to incur an additional cost when you rent a parking lot for your car at the airport and that cost might appreciate over time depending on how long you'll be gone. Not everything about air travel is easy, only getting to the airport can be an overwhelming task because regardless of the comfort that comes with driving your car, you're most likely going to end up adding a physical, emotional, and financial strain to your trip, that is the more reason you should explore other options or means of getting to the airport and in good time.
Airport shuttle services come in handy and Fast Break Limo services is a household name that has been providing shuttle services in the heart of New York. Fast Break Limo services is an elite car service provider that is always at your disposal, with more than 24 years of active shuttle services, Fast Break Limo services are your best option in achieving a comfortable and hassle-free ride as you embark on your journey to the airport, from the airport and even within the city, we are just a call away.