Traveling is perhaps the most exciting activity there is. New destinations allow you to live new experiences, meet new friends, and discover new culinary specialties. But, before you can enjoy your new place to stay, you need to get there first — so that means going through an international airport.
Whether it's your first, your second, or your umpteenth visit, it is quite normal that you are stressed about moving around the airport. This is the reason why I made this list. As a seasoned traveler, I know a few tips to improve the experience. Here are my top ten tips for making international travel easier.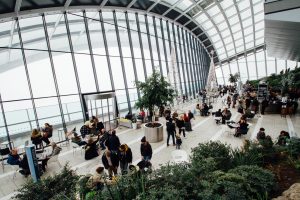 1. Packing your stuff like a newbie
There is probably nothing worse to start your new adventure than realizing, once you arrive at your destination, that you have brought only eight t-shirts, a pair of underwear, and a few mismatched socks. When packing your things, you should make sure you pack the essentials. Seven days means seven pairs of socks and as many t-shirts, underwear, etc.
Packing your belongings well also means making sure you have the correct charger/adapter for your electronics. To limit the number of cords and outlets, try to find out if several of your electronic devices might have a common charger. And just like you packed enough underwear for the duration of the trip, you should also download or sync enough music and TV shows/movies to keep you entertained during downtime.
Travel documents are also extremely important. To board the plane, you must prove your identification and show your passport and ticket. Another major tip — check beforehand that your passport has not expired!
2. Arriving late
Late arrivals at the airport are 90% of the leading cause of stress associated with travel. If you need to check-in baggage, this is especially important. Yes, going through security ahead of time can seem boring, but I promise you it's a thousand times better than stressing out in the queue. Personally, I always try to get to the airport 2-3 hours before take-off. This gives me an hour or two to explore the shops at the airport and that's perfect!
3. Not being security conscious
People are always stressed out when you talk to them about safety. If you think about it, security guards want the same thing as you. They don't want to find a pocket knife, water bottle, or spray in your bag. It's no fun for them to send you back in line, and it certainly isn't fun for you.
To avoid these uncomfortable situations (for everyone), you need to be prepared as best you can to go through security. First, make sure all of your fluids fit in one liter plastic bag. Second, keep your electronics handy in your bag. Third, place your electronics together in a separate compartment with the plastic bag containing your liquids. If you just follow these basic tips, you'll get through security without a hitch.
4. Finding your gate at the airport too late
Usually, gates are announced on departure screens 45 to 60 minutes before boarding. If you're really planning ahead, you've already set up an alert through your airline's app that will notify you as soon as the door number is known.
If you're like me and prefer the traditional method, go to a giant screen to find your flight and the corresponding gate. After taking note of your gate and setting an alarm 15 minutes before boarding on your phone (so you have plenty of time to walk to the gate), you'll be ready to explore the terminal.
5. Not using the airport Wi-Fi to explore
This is perhaps the most important feature that most airports offer: free Wi-Fi. Some set a limit of 30 minutes (grrr), others offer it unlimited (you-hou!). The important thing is to be able—with your mobile device in hand—to start exploring your destination now. Have you booked your transport from the airport? What about the hotel? Want to know the name of that delicious restaurant you've heard of? Now you have the flexibility to sort out all the details, research, and organize yourself before you land.
6. Not taking advantage of airport entertainment options
Chocolate, perfumes, books, sushi, clothes — you can find it all at airports. People who say they are bored at airports scare me. They are like Disneyland for adults. Personally, I like the somewhat intellectual challenge of entering a bookstore to find a book to read before I get home. I also go on a snack hunt to satisfy my appetite for the duration of the trip, because there you go, I'm greedy. Also, don't forget to hydrate yourself. Some flights can be very long!
7. Not exploring the airport architecture
Airports, just like public parks or skyscrapers, are designed to impress. Traveling is no longer just about getting on a plane, it's about creating an experience. More and more airports are supporting this idea. Find out about the airport you are going to visit and see what it has to offer. Many of them have terraces that allow you to watch planes take off and land. Others have botanical gardens. And still, others are inspired by the culture and landscape of the city in which they are settled. This perfectly announces tip number eight.
8. Not asking for help
If you are looking for something to do, ask a member of staff for advice. Discover the best places to eat, shops to explore, art exhibits, and architectural motifs to admire.
If you have a question regarding your flight, the best option is to speak to an airline representative at any information desk.
9. Not relaxing
In fact, it's my favorite activity at the airport, because you see, in the end, we get tired of wandering from one store to another. At this point, it's time to find a comfortable seat, open Netflix, and catch a show to pass the time. Here are my favorite series for learning English.
10. Not prepared to board the plane
Beep, beep, beep! Ah yes, this is the alarm you set. It's time to head for the door. Before you get there, however, make sure you have your boarding pass and passport open to the photo page on hand. Once you've passed that last obstacle, find your seat, fasten your seatbelt, and let the pilot take care of the rest. You are on the right path!