Dave is a consultant for an international company. He got a promotion and needs to attend a meeting in New York. He had never been there before and had trouble finding his way from the airport. This happens to many travelers who don't know about airport transfers.
If your situation is like Dave's, then you should learn about airport transfers. It'll help you avoid the hassle of using local taxis, dealing with high ride-sharing costs, and carrying heavy bags. 
But there's no need to worry! We're here to help. In the next few minutes, we'll unravel the mysteries of stress-free airport transfers. So join us as we embark on this exciting journey. 
Let's get started!
What are Airport Transfers?
Airport transfers are special stress-free rides that take you from the airport to your hotel, home, or any other destination. It's way more relaxing than dealing with buses or taxis because you get your driver who's all set to pick you up. 
This helps you feel better after your trip and makes moving from the airport to your destination very easy. Whether you're stressed from traveling or simply looking for convenience, airport transfers are the right choice for you. They're also a great way to get where you're going without worrying about unfamiliar transportation options.
Types of Airport Transfers 
Whether you travel a lot or it's your first time flying, knowing about airport transfers is vital for a smooth travel experience. Here are some types of airport transfers to help you make an informed choice:
1. Shared transfers
If you're looking for a budget-friendly choice, you might want to consider going for shared transfers. This type of airport transfer lets you hop on a ride with other travelers who are also headed in the same direction as you. 
It's a great way for you to save some money while still getting to your destination comfortably. So, if you're not in haste and don't mind a bit of company along the way, shared transfers could be the right choice for you.
2. Private transfers 
If you're looking for airport transfers with a more tailored experience, then private transfers might be the ideal choice for you. This simply means that the vehicle is just for you and your group, so you'll have a more exclusive and comfier trip. 
It's also a good choice if you're in a hurry or tired and want to get to a hotel quickly. You don't need to wait for others, as the vehicle is just for you. So, whether you're with family or friends, a private transfer lets you enjoy the ride at your own pace. It's a convenient and special way to get to your destination on time.
3. Hotel shuttles 
When it comes to getting to and from the airport, you might be lucky if you're staying at certain hotels. Some of them offer free shuttle services that will take you directly to the airport and back. This can be a really handy option, especially if your hotel provides this service. 
With this, you won't have to worry about making a separate arrangement for transportation. This is also a great way to save time and money. So, if you value convenience and want a smooth ride to or from the airport, using a hotel shuttle might be a smart option.
Benefits of Airport Transfers
Airport transfers come with numerous benefits. We've laid down some of them for you: 
1. Convenience 
Airport transfers offer a level of comfort that's hard to beat. Imagine stepping off the plane after a tiring trip, and there's a warm and friendly face waiting to take you to your destination. 
They're always ready to take you wherever you want to go, saving you time and energy. With their services, you'd avoid the stress of figuring out the right public transportation or waiting to call a cab. 
2. Safety
Staying safe while traveling is very important. Airport transfers help you feel relaxed and make sure you're safe during your journey. They hire professional chauffeurs who know what they're doing. 
You'd feel more comfortable knowing that the driver taking you around is good at their job. With their knowledge of the routes in the city, they can make your travel experience less worrisome and more enjoyable.
3. Time efficiency
When it comes to time efficiency, airport transfers have a timely pick-up vehicle waiting just for you. They know you value your time, so the vehicles are pre-arranged and tailored to your schedule or preferences. 
This means you can say goodbye to the hassle of waiting in long lines or worrying about being late. With airport transfers, you can be sure to enjoy your trip, without any unnecessary delays.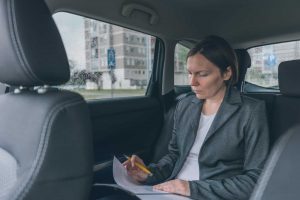 3 Simple Steps to Book an Airport Transfer
Here are 3 easy steps to consider when booking airport transfers: 
Research: When you're planning a trip, it's a good idea to look for

reputable airport transfer companies.

You can check out reviews online or ask travel agencies for their suggestions. This will help make sure you have a hassle-free experience when you arrive at your destination.

Provide your details: When you

book a ride

, it's important to share your flight info with the driver. This helps them know when your plane lands, so they can be there when you arrive. It's like having a friend pick you up right on time.

Confirm your booking: It's wise to check your booking one more time before you leave. It's like a final look to make sure everything's set for your trip. Just like making sure you have your keys before leaving the house. This quick check can help you avoid any problems in the long run.
Book an Airport Transfer Today!
Airport transfers are a great way to make your travel stress-free and enjoyable. By choosing the right transfer service and booking in advance, you'd ensure a smooth and comfy trip to and from the airport. 
Here in New York, Fast-Break Car Service is the right choice for you. Whether you're looking for luxury, cost-effective, or just a simple ride, we have the right choice to suit your needs. Our vehicles are safe and reliable. That's not all, we also have qualified chauffeurs who are friendly and familiar with the routes of the city. Let's relieve the stress from you. Book a ride now!